Top of the Key | Blokkervil River: Rethinking Basketball Nicknames
Artists
Top of the Key | Blokkervil River: Rethinking Basketball Nicknames
Basketball nicknames, once a proud tradition (The Big Dipper, Wilt the Stilt, The Round Mound of Rebound, Pistol Pete, The Hick from French Lick, Plastic Man, to name a few) have fallen on hard times. D-Wade? T-Mac? Timmy? C-Bosh? Are these even nicknames?
Ok, so Birdman (Chris Andersen) and the Red Mamba (Matt Bonner) are GOOD, but overall we've gotten lazy when it comes to bestowing flowery and colorful 'nom de hoops' on our hardwood heroes.
Here is a fresh batch of aliases for our Finals-embroiled competitors. You're welcome, sorry.
Lebron James = THE BLADE RUNNER
Is he really human? Or is he a cyborg? It's hard to tell sometimes. From the day he stepped on a basketball court Lebron has had a laughably superior set of physical and mental abilities. What makes me really suspect he's inhuman, however, are photos like the one above.
He's not breathing through his mouth–he's not even winded. Unless his nasal passages are as oversized as his biceps, something is wrong here. Fire up the Voight-Kampff machine.
Dwyane Wade = ICY HOT
As in, he must go through tubes of Icy Hot a week to keep his knees usable. Anybody who remembers Wade from even a few years ago knows: something isn't right with his body. He doesn't have that first step and sometimes resorts to his fallaway jumper instead of attacking the rim like the days of old. When his game is icy, the Heatles are missing a crucial dimension; when he's hot they are practically unbeatable.
Chris Bosh = DINOSAUR JR.
He's the third fiddle and he looks like a dinosaur–this is an obvious one. Having said that, I feel Bosh is both underrated and cruelly maligned. When your third fiddle is one of the most skilled big men in the game, you're a hell of a basketball team.
Chris Andersen = JESUS QUINTANA
Sure, he may have done six months in Chino for exposing himself to an 8-year old, but the creep can roll. The creep can roll. (*On a serious note, it's perhaps unfair to judge Birdman, I mean Quintana, simply because of some unsubstantiated allegations that may have been the product of a smear campaign.*) Still, those tattoos were probably not a wise move as far as public-relations-damage-control goes.
Udonis Haslem = BEASTERS
Udonis has been called the heart of the Heat, and he's the only other holdover (aside from Icy Hot) from the 2006 championship squad. His strength lies in his grit and his dank-ass mid-grade, I mean mid-range, jumpshot.
Mike Miller = THE ELECTRIC MIKE ORCHESTRA
I like Mike. He played with what appeared to be a dislocated spine in last year's finals and is a real gym rat (I also considered Gym Courier as a nickname). Known for his deadly three point range, he is also a scrappy defender and playmaker. Don't be surprised if he gets electric and goes off for a handful of threes in a quarter.
Norris Cole = DON'T BORE US GET TO THE NORRIS

Wade's understudy, he has flashes of solid play but is still a work in progress. If he messes up you'll see him on the bench and his minutes going to The Electric Mike Orchestra. His job is to feed his teammates and play solid D. He has a flashy haircut.
Mario Chalmers = WHIPPING BOI

Man, they are so hard on Chalmers! Last year Lebron openly chided him for celebrating a victory prematurely, and then against the bulls Dinosaur Jr. really laid into him for shirking a defensive assignment. It got so bad that Joakim Noah started cheering and jeering, trying to incite some inner turmoil. Why is everyone always yelling at him? Regardless of the verbal abuse, he is known for his clutch play and can take over for short stretches.
Joel Anthony = HODOR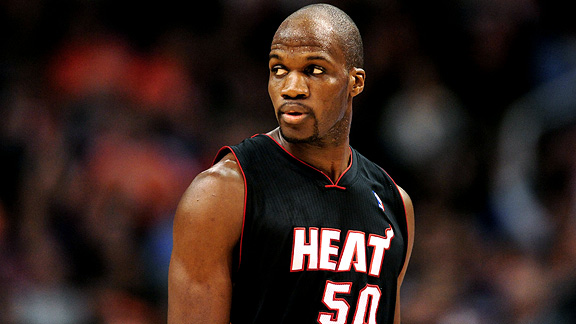 We haven't seen a lot of Hodor since the Hodors signed Jesus Quintana after the Hodor, but his Hodor remains the same: Hodor, play Hodor, and block Hodors. Every Hodor needs someone like Hodor on their Hodor.
Shane Battier = SHANE THE BRAIN

Shane Battier is apparently extremely smart. And not smart for a professional athlete, smart for anyone. He carries an almost mythological understanding of the game, and his rise as a coveted role player in the league has fueled the ongoing "advanced metrics revolution" in basketball. He helps teams win in such strange and hard-to-measure ways that front offices have changed their very methods of evaluating player value. Heady stuff, Shane the Brain, heady stuff.
Rashard Lewis = JUICY JUICE

For some reason Juicy Juice was once one of the highest paid players in the league. Now he resides deep inside Erik Spoelstra's stable of deadly shooters. Put this in your vaporizer: Rashard Lewis and Hedo Turkoglu, former teammates of Dwight Howard, have both been quietly suspended for violating the league's ban on performance enhancing substances. Those massive shoulders aren't looking so good anymore, are they Dwight? Piss test, anyone?
James Jones = PLAN J
A pure shooter who won the 2011 NBA Three Point Contest. Hasn't seen much playing time in the playoffs, but when he gets in look for him to launch threes. Kind of looks like Samuel L. Jackson.
Ray Allen = SALAD WORKS

Ray Ray is one of the best, if not the best, three point shooters of all time. He's old and still getting done, thanks to his tireless work ethic and attention to detail and physical fitness. When he gets hot it can tip the scales in a big way. Jeff Van Gundy has a crush on his mom. Acted (convincingly) in a film with Denzel once.
– – –
Tim Duncan = THE BIG BOY FROM SAINT CROIX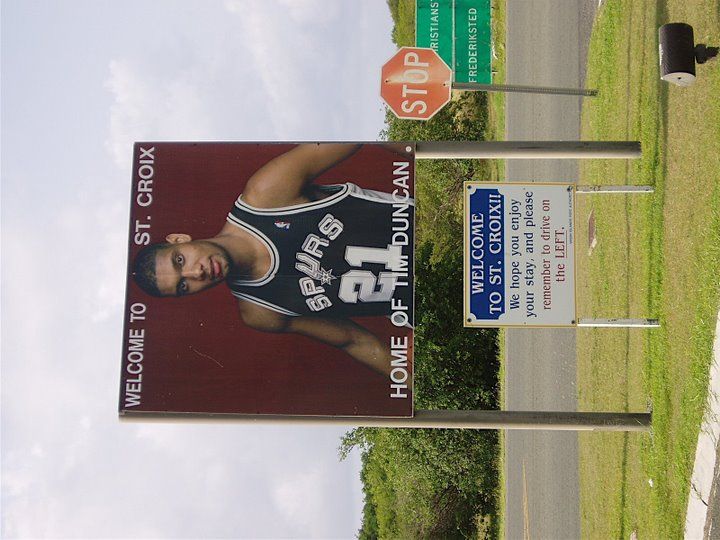 If the Spurs win the championship, Tim goes from being arguably the greatest power forward of all time to being obviously the greatest power forward of all time and probably the single best player of his generation (surpassing Kobe). He is so idiosyncratically soft-spoken and analytical that The Onion has a hilarious, long running series lampooning his odd intelligence. He's tall, he's long, he's a forward or he's a center (does it really matter?), he's from the US Virgin Islands. He's The Big Boy from Saint Croix and he's one of the greats. If you think that's boring, well, I don't know what to tell you.
Tony Parker = THE ALAMOTION POTION

For some reason Tony's name doesn't immediately come up when discussing the best point guards in the NBA. Chris Paul and Deron Williams (before this mediocre season) have been the conventional picks for a while now (with Rajon Rondo, Kyrie Irving and Steph Curry now sneaking into the conversation). Paul and Williams are both 28 and have reached the Finals a combined ZERO times. At 31 Tony has reached the Finals four times and is now their true star. His game is old school: he relies on a Cousy-esque frenetic energy (as opposed to outside shooting) and a breakneck pace to cut through defenses, has the best floater in the league and, like The Big Boy from Saint Croix, knows how to hit a bank shot.  The next time you argue about the best point in the league, show some respect and make sure the conversation starts with The Alamotion Potion.
Tiago Splitter = BLOKKERVIL RIVER

By now you've seen it replayed a hundred times. Within minutes of Lebron's sensational denial of Tiago's dunk attempt it was being referred to as "The Block". In my opinion there is never shame in being dunked on or having a dunk rejected–it's a constant risk in basketball (lord knows I was dunked on quite a bit in high school). If Lebron's arm was a few inches to the left or right it would have been a defining play in Tiago's young career. Chin up, Blokkervil River, next time it'll go your way.
Manu Ginobli = THE BALD EAGLE

Manu has an eagle-esque visage and proudly sports a bald spot atop his head, garnering my everlasting respect. He could shave it down, but why? He's the freaking Bald Eagle. There is a place in the Hall of Fame waiting for him as one of the greatest and most creative sixth men of all time. Also, he once swatted a bat out of mid air with his bare hand, picked it up off the court and gave it to an arena official. You can't write this stuff.
Matt Bonner = EXPLOSIONS IN THE NET
Music lover, sandwich hunter, self-depreator, comedian – what can I say about Matt that I haven't said already? One of the best pure shooters in the league, easily, and a great dude.
Patty Mills = VEGAMIGHTY MOUSE

This diminutive Australian is a fan favorite and makes the most of the little playing time he gets. Here he is wearing one of The War on Drugs' t-shirts — yes!
Gary Neal = ISHKABIBBLES

Ishkabibbles went to La Salle and then Towson before going undrafted and playing overseas in three different countries. San Antonio has a knack for spotting talent that others overlook.
Danny Green = TEXAS MARCHING POWDER

Another player that few other teams had interest in and The Spurs nabbed and developed into a top quality asset. Neither here nor there, Danny Green's father, a gym teacher, was once arrested for alleged involvement in a drug trafficking ring, resulting in the confiscation of 462 pounds of cocaine. Um, Danny is a really good shooter.
Dejuan Blair = THE BLAIR UP THERE

Dejuan Blair has no anterior cruciate ligaments, and hasn't for awhile, but the Spurs took a chance on him and he's been effective when he can get out of Pop's doghouse. Right now he's out of the rotation, for reasons unknown.
Tracy McGrady = UNCLE BUCKETS
Uncle Buckets will probably be remembered along with players like Bob McAdoo and Dave Cowens as being really good during a time when the league was sagging, public interest-wise. Once one of the most dynamic scorers in the business, he's a shell of his former self at 34, but still capable of flashes of brilliance. If it's garbage time–get him the ball, please!
Kwahi Leonard = THE VICEROY OF THE CORNER THREE

A future star, by all accounts, and already a key part of the Spurs' offensive and defensive scheme. He's done a solid job so far of guarding The Blade Runner and, in the span of just two years, developed one of the most consistent corner three point shots in the league.
Boris Diaw = THE ROUND MOUND OF ALL AROUND BASKETBALL ABILITY
Has there ever been a stranger combination of attributes than those found in Diaw? Built like a power forward–a husky one, at that–Boris used to be a point guard and has all the skills that go with that. One of the Spurs' more successful reclamation projects of late, they nabbed him from Basketball Purgatory (The Charlotte Bobcats) and inserted him into the rotation like the swiss army knife that he is.
Nando De Colo – THE FRENCH CONNECTION
French journeyman, doesn't play much. Where do they get these guys? What kind of scouts is San Antonio using? I'm picturing an Indiana Jones-type backpacking through Europe and South America with nothing but a pair of Strength™ Shoes and a copy of The Lonely Planet.
Cory Joseph – RIM HORTON A Canadian (lots of foreigners on The Spurs). When Tony Parker was injured earlier this year, Rim Horton started for a stretch and did fairly well. He's young and unpolished but, given the Spurs reputation for tireless player development, could be a great player someday.