For fifty weeks this year, we're celebrating the music of a specific year every Saturday on WXPN. We'll be choosing the years randomly; for this week's #XPN5050, John Vettese is putting the musical spotlight on the year 1998.
An absolutely, utterly ridiculously number of now-classic albums first made their way into the world in 1998. Neutral Milk Hotel's in The Aeroplane Over The Sea. Lauryn Hill's Mis-Education. Tori Amos' From The Choirgirl Hotel. Billy Bragg and Wilco's Mermaid Avenue. Air's Moon Safari. Massive Attack's Mezzanine. Madonna's Ray of Light. Belle and Sebastian's Boy With The Arab Strap. Jay-Z's Vol. 2: Hard Knock Life. Lucinda Williams' Car Wheels on a Gravel Road.
That's just a short list — I could go on and on, honestly — and outside the full album zone, think about the hits that year from Fatboy Slim, Pearl Jam, Semisonic, Fastball, Lenny Kravitz, Natalie Merchant, Soul Coughing, New Radicals and so much more.
Suffice it to say, 1998 was a solid year for music through and through, and it was a thing of joy to celebrate it on the #XPN5050 this week. 
Some more memories? On the big screen, Saving Private Ryan tugged heartstrings and swept industry accolades, as did Titanic, while A Bug's Life found the Pixar crew introducing a new cast of characters. Wesley Snipes landed in the sci-fi realm on Blade, Chris Tucker teamed up with Jackie Chan with hilarious results in Rush Hour, and one of the best comedies of the past 20 years, The Big Lebowski, first hit theaters.
On television, Dawson's Creek and CatDog made their debut, while the long-running meta comedy Seinfeld aired its much-watched final episode.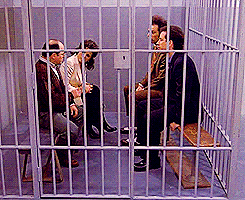 Below, listen to a busting-at-the-seams playlist of music from the year 1998.