Artists
Grant Calvin Weston on drums, improvisation, innovation, and his new band Wail
When a musical giant like saxophonist Ornette Coleman asks you to play with him, you always say yes, even if you don't exactly know what you're getting yourself into. That was the case back in 1976 when a 17 year old North Philadelphia drummer named Grant Calvin Weston found himself in New York City for his first practice with Coleman and his Prime Time Band. He quickly realized he was in completely over his head.
"At 17 I didn't know who Ornette Coleman was," he told The Key. "I was playing [covers of] Earth Wind and Fire, KC and the Sunshine Band, Tower of Power, The Isley Brothers for a local band. That's what we did. When I went up to New York to rehearse with Ornette I sat there and listened to what they were playing and I was, like, 'What did I get myself into? What is this?' It just sounded like noise to me."
While he couldn't figure out how to play along, he also realized he couldn't just sit there doing nothing. "But as soon as I came in and started playing a jazz swing," he recalled with a laugh, "Ornette stopped everybody and looked at me and he said, 'Calvin, this is not jazz. This is not bebop."
The teenager muddled his way through that initial practice and, still perplexed and overwhelmed, got on the train back to Philadelphia. He resolved to do better the next week but didn't really know what to do. Then it hit him: "I found the most out-there music that I could find that I didn't listen to [already]. I borrowed a few Mahavishnu Orchestra records from a friend. I put that on day and night, day and night, and listened to it."
He taught himself the drum parts from Mahavishnu and then took the songs that Coleman had written out for him and figured out how he could basically combine the two. "For every tune that [Coleman] had, I decided I had a Mahavishnu one as a reference point," he explained.
It paid off. At the next rehearsal Weston used his newfound knowledge and discovered that his Mahavishnu-inspired drum parts worked perfectly with what everyone else was doing, starting right from the first thing they played. According to him, "I made it through the whole song and the next thing you know [Coleman] looked at me and said, 'Oh Calvin that's good! That's good! I like that. Can you remember that?'"
"I said, 'Yeah, I can remember' because I had the Mahavishnu tune written right on the side of the paper!" Weston told The Key, cracking up while recounting the story. This continued throughout practice. "Every song we played, I played a Mahavishnu tune," he said. "From there I got the gig."
Weston, Coleman, and the rest of the band – the lineup included fellow Philadelphian and lifelong friend and collaborator Jamaaladeen Tacuma on bass – recorded the landmark albumOf Human Feelingsin 1979. It was in that group where Weston figured out a lot both about drumming and being a musician. "I learned how to play melody," he said. "That's what [Coleman] wanted me to to do, improvise around melody with a rhythm."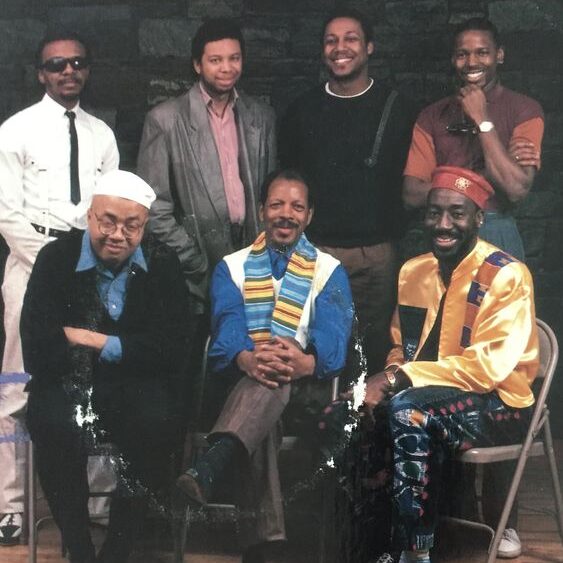 Weston met guitarist James "Blood" Ulmer for the first time at a Prime Time practice. That relationship would lead to him playing on a number of noteworthy albums including Are You Glad To Be In America? and Black Rock.
"Blood was a whole different can of worms," Weston said. "When I went to rehearsal he was, like, 'See that snare drum? Set that on the side somewhere. You're not going to play the snare drum.' To myself I was, like, 'I'm not going to play the snare drum?!'" It was the same with the cymbals, which is a very strange thing to be told as a drummer.
He remembered how Ulmer explained that the only thing he was going to play was the high hat, the bass drum, and the toms. The idea was for Weston to create a drone beat, something he had never heard of before that day, while accenting on the high hat. It was only after he mastered that technique that Ulmer let him add the snare and cymbals back into the drum kit. It was another learning experience passed on by yet another jazz great that he had the good fortune of working with at a young age.
More than four decades later and Weston is still at it. He has performed with everyone from Tricky to Derek Bailey to John Zorn to Marc Ribot to NYC's The Lounge Lizards with no wave stalwarts John Lurie and Arto Lindsay. In fact, there's a new album by that band coming out soon.
Here in Philadelphia, Weston has been working on a number of different projects from the studio on the third floor of his house – what he's dubbed the Soundscape Recording Lab. During the early days of the pandemic quarantine, he set himself to the task of mastering the digital know-how needed to be able to record from home. It's paid off and he is now collaborating with musicians from around the world as well as creating solo stuff under the moniker Groovescape.
On top of all that he also has a new funky rock n' roll band called Wail with brothers Yanni and Alexi Papadopoulos from West Philly doom metal act Stinking Lizaveta and Pete Wilder of EDO and many other groups. Their debut is coming out on Translation Loss later this month, but you can hear a preview at the end of this article.
Alexi Papadopoulos referred to Weston as "inspirational" and said that so much of playing with him is just sitting back and enjoying wherever he wants to take you: "He's the drummer and I'm the bass player and he's driving the bus and I am on it! It's a really fun ride to be on. He's playful. It's called 'playing music' because it is kind of a game. It's fun to play that game with Calvin."
Weston and the Papadopoulos brothers have played together in different live ensembles over the years and it was from their partnership and friendship – cemented back in 2009 when they joined forces to back up legendary keyboard player Bernie Worrell at Johnny Brenda's – that Wail was born. Some of the songs on the album are based on tunes they had initially came up with in those other groups. Weston described the band as not being tied to a single genre: "I can mix it all up. I don't have to be anchored to one thing. I can throw some fusion in there, I can throw some rock in there, I can throw some funk in there."
According to Yanni Papadopoulos, "The music is pretty unapologetic funk rock, which I think we can all use a dose of right now. I knew it was good when I put [the album] on and my daughters started dancing around the room."
Weston told The Key it's been very important for him to be able to talk to his fellow musicians about this project and a lot of the other work he's been doing, citing recent chats with Poogie Bell, Narada Michael Walden, and Billy and Wayne Cobham. "They all gave me great advice and weren't stubborn about sharing their knowledge about drumming, rhythm, and music," he said.
So much of what Weston does is improvisation and so for him, "The most important thing … is listening to who you're on the bandstand with. Seeing what you can bring to the sound that they're trying to put over or vice versa."
He recalled a conversation he had with Cornell Rochester (Ulmer, Odeon Pope, Gerald Veasley) where he was asked how he could get up on stage with musicians he just met and play together as if they've been in a band for years. "You get up there and you listen," he responded. "You follow a groove [and] anchor it down. You look at the bass player and see what they're doing. Eye contact is very important. You hear what the guitar player, the sax player is doing and you anchor it down. When you feel that you know where somebody is going to go then you can loosen it up a little bit. Then you can throw this in there, throw that in there. Don't take it too far! Because you know how to come back into that anchor part, that back-in-the-groove part. That's how you do it. That's how I've done it all this time."
Embed from Getty Images
Yanni Papadopoulos told The Key that, "Calvin Weston is a human tornado. Playing and personality. The man has more energy than a 10 year old and he draws from such rich experiences. His philosophy of playing is sometimes he's in, sometimes he's out, sometimes he's in, sometimes he's out it's up to him and you just gotta hang on for dear life."
His brother echoed those sentiments: "He's a driving force and it's fun to be there, to do it with him. He doesn't wait to take it to a really interesting place."
Weston has been playing with the Lounge Lizards since the 90s. Their new album, the first in more than two decades, is being done as a kind of soundtrack to the second season of "Painting With John," the "part meditative tutorial, part fireside chat" series on HBO starring saxophonist John Lurie of the band.
Another group he's currently with is the Arpeggio Jazz Ensemble, a long-running Philadelphia band that started in 1979. Weston joined them recently, stepping in after their original drummer unfortunately suffered a stroke, but his history with founder Warren Oree goes back a long time. He recalled playing together at Tritone, the South Street bar and venue that was very much a home for jazz in Philly during the ten short years it was open.
"That was [a] spot I loved," Weston said. "Rick [Dombrowolski, one of the owners], God rest his soul, anytime I would call he'd have an opening and he'd say, 'Calvin, come on down!' Tritone, Tonic, and The Stone were the only clubs that I know where [musicians] could get 100% of the door." In 2003 he brought Ulmer to Tritone to play two very sold-out concerts at the bar. "Every night at Tritone was cool cause it was just that kind of spot," he told The Key.
Asked about his plans for a post-pandemic future, Weston mentioned how much he can't wait to go on tour again. He is working with John Zorn and John Medeski on something that might bring him back to Europe but no plans have been made yet. Free Form Funky Freqs, his band with Tacuma and Vernon Reid (of Living Colour), has a new album that is not yet released. As he put it, "I don't know when I'm going on tour or anything. That's why I try and stay busy in the Soundscape Recording Lab. If someone calls me to go on tour I definitely will go but until then I will continue to do my tracks up in the studio."
Still, he's keeping very busy. Over the past year and a half he's worked on six different albums out of his home studio including the newly-released Warm Trio album Mouse Paradise, recorded with Wail, recorded with Lounge Lizards, set up an online presence for his solo Groovescape stuff, and done a ton more. While he could rest on his laurels and bask in the sheer amount he's accomplished over the last four and a half decades – very few living musicians can boast a discography so jam-packed – he is continuing to look forward to whatever is next.
"I do listen to some of the old stuff I've done – mostly on YouTube, though I've got the albums, I've got my turntable hooked up – but I'm constantly trying to put new shit out," he said. What he's done in the past is a reference point, something to learn from, a space to serve as a bit of a home base while he goes off to new, exotic musical destinations.
A parallel can be found in Philadelphia, the city where Weston was born back in 1959 and where he still lives. According to him, "Philly is a sort of epic place for musicians. You know how many musicians have come out of Philly who are just awesome?"
As to why he never moved to Europe or even to New York City like so many of his peers, he explained that, "It's in the center of places that don't take you a long time to get to. I always felt comfortable here. Of course my family is here [and] there are a lot of places to play here. But I can take a train to New York, do a gig, and come on back. That's why I never moved out of Philly."
As he approaches his fifth decade of playing music professionally, Weston is still happily learning new skills, constantly innovating, and always grinding. His approach to playing might be informed by everything he's done before but the music he creates stays fresh. The "human tornado," as Yanni Papadopoulos called him, is always in motion.
Papadopoulos told The Key that playing with Weston is "touching on a real great tradition" of music. "You're going back to the source," he said. "It's almost like being able to hang out with Miles Davis or John Coltrane. Calvin has definitely got the goods."
Wail's self-titled debut will come out July 23th on Translation Loss Records. You can hear the track "Symmetry" below and check out an additional song on the band's Spotify page.