Artists
The rise and fall of Philly glam metal as told by the reunited Heaven's Edge
Heaven's Edge in 1990 | Photo via heavensedge.net
The future looked bright for Heaven's Edge when they released their self-titled debut album in 1990. The Philly-based glam band was following a trail blazed by New Jersey's Bon Jovi, who were verifiable superstars by that point, as well as fellow hairspray- and spandex-inclined Philadelphians Cinderella and Britney Fox. Their infectious single "Skin On Skin" quickly became an MTV staple. But then the future shifted direction.
"Shortly after our first album was released, Nirvana came out and everything changed," says lead singer Mark Evans, now a project manager for a contractor based in the Medford, New Jersey area. "The music we were playing became a thing of the past and bands like Nirvana and Soundgarden and Alice in Chains took over. We became dinosaurs very quickly."
The band broke up during the recording of their second album, which was finally released with a few new songs in 1998 as Some Other Place, Some Other Time. By then, however, the members of Heaven's Edge had moved on. They remained on good terms and have occasionally played a few songs together at benefit concerts for friends, but when the band reunited last month to play Firefest in Nottingham, England, it was the first time that the five original members had performed a full set live in 21 years.
"It felt great," Evans says of the show. "It gave us the opportunity to step back for a moment and just go, 'Wow, we had a lot of fun together, didn't we?' We don't really spend much time together; our lives are busy with kids and work and normal life. To be able to get together and feel like we're all 25 again for a little while is an amazing opportunity. And it didn't disappoint."
They'll get another chance to recapture the past, this time on home turf, on Friday night when Heaven's Edge reunites in front of a Philly crowd at World Café Live. When the time finally came to get back together, Evans insisted that a local show had to be on the agenda. "If we're going to get together and rehearse, let's not do it for one show on one weekend over in England," he says. "As cool as that is, we've got a lot of fans who would love to see us here in Philly, and I'd love to play in front of those people again."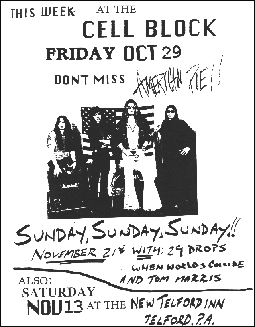 Heaven's Edge was formed in 1987 by Evans and guitarist Reggie Wu, both of whom were playing in other local bands, Evans in Network and Wu in Whitefoxx. But Wu approached Evans' then girlfriend, now wife, and asked if the singer might be interested in writing with him. "She passed the message on to me and I was like, 'Are you kidding me? He's one of the best guitar players I've ever seen in my life,'" Evans recalls. "So we got together and after a few weeks of writing together I told Network I was leaving. They thought I was insane because they were making great money; that was actually what I did for a living, so I had to go out and get a day job to do Heaven's Edge."
The band played weekly at The Galaxy in South Jersey, as well as gigging regularly at the Empire Rock Club and Trocadero during a particularly rich time for the Philly music scene. "It was a great atmosphere," Evans says. "Not just for the hard rock stuff, but The A's, The Hooters, Beru Revue, Robert Hazard. The whole Philly scene was very alive."
While grunge dealt Heaven's Edge its fateful blow, the band almost met a more tragic fate one night at the Empire Rock Club when a disgruntled patron returned to the club with a shotgun, intending to shoot the bouncer who'd thrown him out. Instead, bassist George "G.G." Guidotti was first out the door and took a round to the abdomen. He was lucky to survive, but was laid up for a few crucial months.
The high point, however, came when Heaven's Edge had the opportunity to open for Dio, which brought them to the stage of the Philadelphia Spectrum. "For all of us growing up in the Philly area, the Spectrum was where we went to see every concert, whether it was Van Halen or Kiss or Led Zeppelin or Aerosmith," Evans says. "When we were kids, we used to dream that someday we'd actually play there, and we got to live that."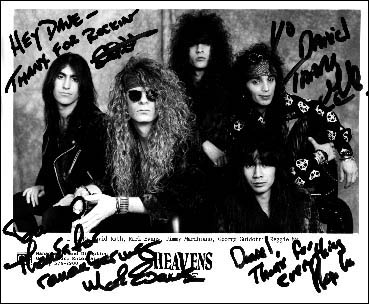 The attitude toward '80s hard rock has shifted again in recent years, with fans shamed by the onset of grunge coming back out of the closet and exposing their own kids to the heyday of glam and metal. "After all these years," Evans says, "there seems to be a resurgence because people want to enjoy music that's not too serious and gets you all depressed and makes you feel introspective. Just music to have fun with."
That's precisely what Heaven's Edge delivers, and Evans foresees a limited return for the band in the future. Over the past several years, he's kept writing music, sometimes with Wu, as well as playing in a classic rock cover band and a David Bowie tribute band, "just for fun and to make literally a couple of bucks, enough to pay for gas and to have a beer at the end of the night."
He hopes that after their triumphant return to Philly, Heaven's Edge will continue to get back together for the occasional festival or rock cruise. "We're all too old to be rock stars full time, but if we can do it for an hour and a half every few months, it's a blessing to have that feeling again."
Heaven's Edge performs Friday, November 8th at 8 p.m. at World Cafe Live, 3025 Walnut Street. Tickets for the all-ages show are $15 and can be found here.